Roll up banners are great for displaying your products and can be a very versatile marketing product.
A banner like this is ideal for use at exhibitions, conferences, retail outlets or in any public building including your own!
Professional and Cost Effective
You may step back when you see these expensive looking, high quality products... but infact they are very reasonable, have many purposes and positives. These professional displays will last a lifetime if cared for properly, so the investment is definitley worth it.
Before you purchase any banner, you'll need to consider branding, colouring, text and white space – and when you've mastered this, a high end quality finish is imperative.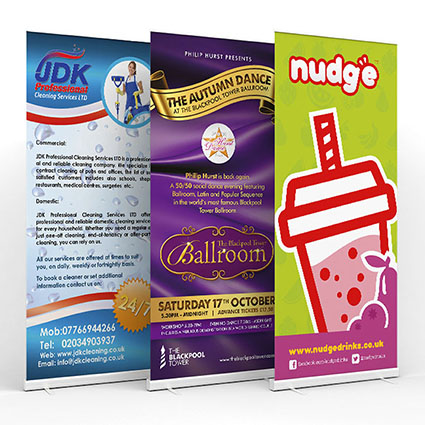 Be Creative
Many different trades purchase our Roll Up Banners - you can advertise almost anything!
Be creative in what you put on there, making sure the display is eye catching. It is important to be aware of your audience though and to consider both branding and design.
Or let our design team give you a hand at creating an outstanding display.
Convenient
Your next presentation or exhibition will already be sorted with your Roll Up Banner to hand. Generic business Roll Up Banners are very popular by our customers as can be used accross all your needs and for a long period of time.
Roll it up and your there.
They are also a lightweight and easy to store product – when not in use they simply roll into themselves and are placed in the carry case.
So why not try one for yourself?
Free UK Delivery
on all orders
Free File Check &
Emailed Proof
Express Service
up to 80% Faster