Fonts can be very tricky when designing for anyone. You can spend hours searching for that perfect font, and you may not even come across it at all!
Canva have done the hardwork for us and discovered 100 free fonts than anyone can start using! Take a look below at what I discovered; I have found some I like too and will try too.
Sans Serif

01. Alegreya Sans by Huerta Tipográfica
Features: humanist design (more organic, calligraphy-inspired, horizontal movement for easy reading); seven weights plus matching italics and small caps.

Great for: advanced typesetting; books and articles.

Find it at: Huerta Tipográfica; download the companion serif version at Font Squirrel.
02. Montserrat by Julieta Ulanovsky
Features: contemporary yet classic design inspired by early 20th-century signage in the Montserrat neighborhood of Buenos Aires; recently updated with extra weights (but no italics).

Great for: almost anything; this versatile, clean-lined font is a nice alternative to pricey typefaces like Proxima Nova, Gotham, and Avenir.

Find it at: GitHub.
03. Montserrat Alternates by Julieta Ulanovsky
Great for: adding a custom look or letter variations to text set in Montserrat.

Find it at: GitHub.
04. Stilu by Genilson Santos
Features: four weights plus italics; includes small caps and ligatures.

Great for: when you need versatility; creating a bold, modern look.

Find it at: Behance.
05. Webnar Bold by The Northern Block Ltd.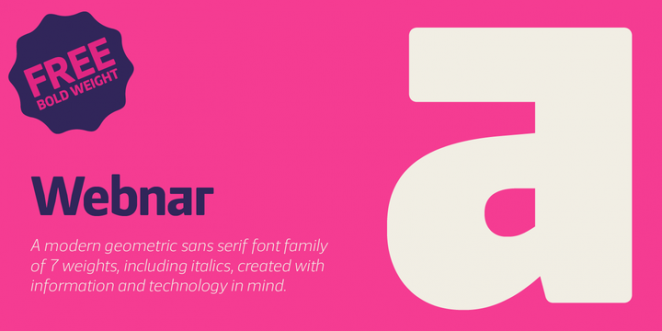 Features: clean, geometric design created for legibility; performs well both in print and on screen.

Great for: punchy headlines; has a modern look originally designed for technology contexts.

Find it at: MyFonts.
Free UK Delivery
on all orders
Free File Check &
Emailed Proof
Express Service
up to 80% Faster